Words
Although my stories are often told through visuals, I do indulge in the written word from time to time. Below are three stories I wrote over two weeks in Seward, Neb., in 2017.
Jerry Meyer stands for a portrait in the Nebraska National Guard Museum in Seward on July 4, 2017. Meyer became the director of the museum in 2014 and has overseen its relocation from Lincoln to Seward.
In his third semester of college, Jerry Meyer called home to say his life had changed directions.
It was 1984, the year entertainer Marvin Gaye died and President Ronald Reagan was reelected. "Ghostbusters" debuted that June and became the second highest grossing film of the year.
That year, Meyer, now the director of the Nebraska National Guard Museum in Seward, was out of money and searching for direction. His second year at the University of Northern Iowa had begun as uninspiring as the first. He needed change and found plenty.
That fall, Meyer picked up the phone and delivered the news to his father. He heard a crash, then listened as his mother picked up both pieces of the broken handset.
"What did you say to your dad?" she asked.
"I'm dropping out of college, going into the army and becoming a teacher," Meyer said. "She said that's the stupidest thing I've ever heard."
But off he went. He joined the Army National Guard, took two semesters off school for training, then finished a degree in education at UNI. Today, Meyer directs the Nebraska National Guard Museum in Seward, a position he has held since the museum moved from Lincoln to Seward in 2014.
Meyer was raised in Eagle Grove, Iowa, a farming town about halfway between Des Moines and Minnesota. His parents were both teachers. His father taught chemistry and physics at the local high school and his mother taught elementary students.
Meyer graduated in 1983 and left to attend UNI, where he studied accounting before switching majors and joining the National Guard, a decision he attributes to his first and only accounting professor. In the middle of Meyer's first class, the man told him to leave when he admitted he was only in the major for his parents.
"He said, if you don't want to be here don't be here," Meyer said. "I wish I could get that guy some money. Best advice I ever had."
In 1989, Meyer graduated with a degree in education. Despite his initial difficulties and three years on active duty for the Guard, Meyer managed to find his first job teaching history in Iowa at Exira High School, an hour east of Omaha.
Meyer spent two years there before moving west, teaching U.S. and world history at Columbus High School in Nebraska. He spent 13 years there, leaving in 2003 for his first tour in Afghanistan.
He left for good in 2007, going on active duty full time at bases across the United States until his second deployment in 2010.
He spent the next two years in Afghanistan, training local soldiers and police. His return brought him to Fort Riley, Kansas, where he recovered from a shoulder injury suffered in a suicide bombing.
Today, the 52-year-old father of three spends his days in Seward at the Nebraska National Guard Museum, where he plans new exhibits and shows Nebraskans their centuries-old military history. The old uniforms and relics provide Meyer with plenty to talk about with visitors.
"This is my classroom," he said, referring to the museum's exhibit space. "I have an office, but I'm never in there."
Despite his parents' protests, teaching is something Meyer says he was born to do. After growing up with two teachers, four years of college and 15 as a public school teacher, he says that he, like other great educators, was naturally drawn to the profession.
"All the training stuff didn't train me," he said. "It was all the stuff I'd been around all my life."
In 1977, 44-year-old Don Osborne drove from Minneapolis to Omaha and picked up a newspaper, looking to buy a dairy.
Dairy was what Don knew. He had spent years managing and owning dairies in Minnesota, so naturally, he thought, he would do the same in Nebraska, somewhere he and his wife Connie could raise a family.
No dairies were for sale that day, but something else caught his eye. A book bindery an hour and a half west of Omaha in a village of less than 1,000 people. Tom Houchen, for whom the business was named, was selling 32 years after binding his first book.
"It was way out of my field," Don said.
Soon after, the Osbornes toured Houchen Bindery. When they arrived, they were disheartened. The front door wouldn't close and the bindery held very few books, only eight boxes inside the warehouse.
They left that day sure they had wasted their time.
This year, Don and Connie celebrate 40 years owning Houchen Bindery Ltd. in Utica, Nebraska. Three generations of Osbornes have toiled under Houchen's roof, a fact Connie Osborne is proud to admit.
Since 1977, Houchen Bindery has grown to become the largest small edition book bindery in the central United States. Every day, books from public universities and individuals alike are refreshed with new covers and trimmed pages.
Beginning with four customers in Nebraska and Colorado, Houchen now serves hundreds of customers from Minnesota and North Dakota to Texas and Louisiana.
"If you look at a map of the United States we're the corridor right down the middle," Connie said.
The Houchen's success came despite downturns in the bookbinding industry, especially in library binding.
In the past, libraries rebound their books periodically. After so many uses, a library would send books away for a fresh jacket and trimmed pages.
But libraries couldn't send books anywhere. Only binderies certified by the Library Binding Institute were considered capable of library binding, a process that produces more durable, longer-lasting books compared to commercial binderies used for novel publications.
Business boomed at Houchen in the 20th century. But in the past decade, libraries nationwide have stopped sending so many books. University and public libraries have digitally scanned their collections to provide the same content online. Physical copies go unused, so the demand for rebinding has dropped.
Forty years ago, Houchen Bindery's business was almost entirely library binding. But today, libraries only account for half of Houchen's business. To make up this loss, the Osbornes have started binding more small edition and individual editions: less lucrative and less stable contracts.
As a result of this shift, business at Houchen has depleted 20 percent annually, Don Osborne said.
"We're gambling that there's still a lot of binding," Osborne said. "We're pretty busy right now and have been over the past five years, but business is diminishing."
Houchen used to compete with binderies across Nebraska, but today, Houchen is the only bindery in the state certified to rebind library books, and is only one of ten certified library binders left in the United States.
For the Osbornes, the sales and lost business are part of a larger and more disturbing trend: the growth of online publications.
E-books are as old as the Internet, but they didn't catch on until 2010 with the introduction of the first successful mobile e-reader: Amazon's Kindle 3.
The rise of e-books has been substantial since then, with electronic sales making up a quarter of all book sales in 2014, according to the Association of American Publishers. Half of all American adults owned an e-reader that year, according to Pew Research Center.
Despite recent industry shifts, the Osbornes say they're glad they changed directions 40 years ago. Houchen Bindery has become and remains a sustainable business.
"Children should learn to read with a book, turning pages," Connie said. "That's touch and feel and hold."
The two feel comfortable passing on to their children and grandchildren when the time comes.
"I viewed bookbinding as sort of a great family business," Connie, co-owner and associate CEO of Houchen, said. "We are passing the torch on to them."
 
Josh Crumbley of Seward puts the cover on a refurbished book at Houchen Bindery in Utica, Nebraska, on July 6, 2017.
Nance Engel of Beaver Crossing trims the pages of books at Houchen Bindery in Utica, Nebraska, on July 6, 2017.
Clay Lankford of Utica stacks rebound books at Houchen Bindery in Utica, Nebraska, on July 6, 2017.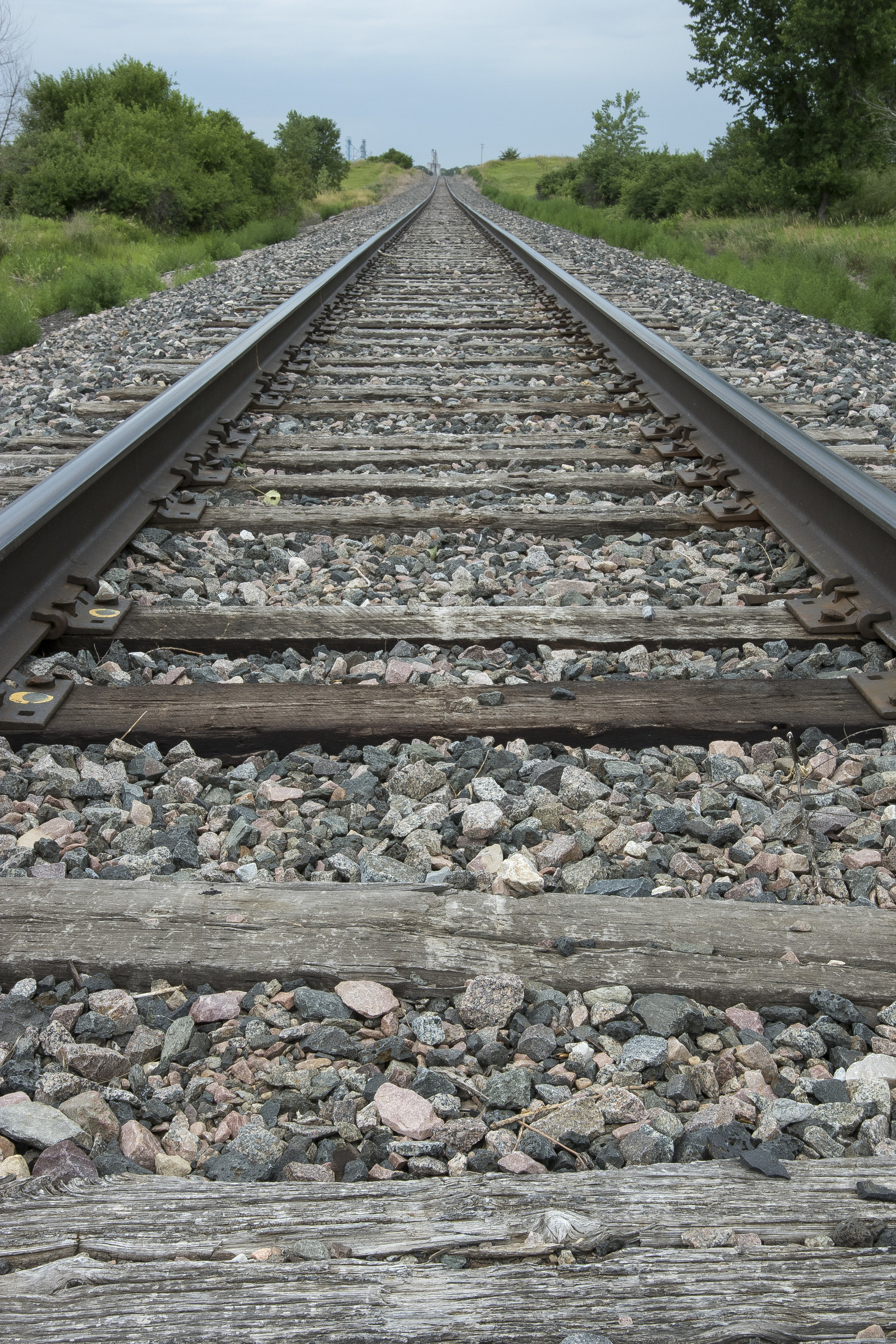 The railway running between Seward and Staplehurst, Nebraska on July 7, 2017.
A map of Seward County, Nebraska from 1908 shows rail lines across the county, including the now nonexistent line from Garland (formerly Germantown) to Seward. Photographed at the Seward County Historical Society on July 3, 2017.
The block Garland, Nebraska's railroad depot used to inhabit. After the trains stopped coming through, Garland's depot was bought, moved and converted into a garage. Photographed in Garland on July 7, 2017.
 
Like many Nebraska towns, Garland owes its existence to the railroad.
In 1872, Midland Pacific Railroad wanted to build a railway from Lincoln to Seward 30 miles away. Milford to the west voted it down, so the company turned north to a community of fewer than 10 called Oak Grove.
The tracks reached Oak Grove the next year, and with the depot and post office came a new name: Germantown. It wouldn't become Garland until 1918.
The town sprang up overnight. The population reached 100 within the decade and 200 within 20 years. Grocery stores, pool halls, schools, theaters and three brand new churches sprang up. By the end of the century, Germantown had the makings of a future trading center.
But the town had reached its limit. For the next hundred years the town stagnated. The bank closed and the railway fell out of use. People and cargo no longer stopped on their way to Seward and beyond. Garland's population never reached 300.
Like many railroad towns, Garland suffered when the trains stopped coming through.
For more than 50 years, railroads dominated the U.S. transportation industry. Between 1865 and 1916, more than 200,000 miles of track were laid, according to the University of Iowa Library. Small towns like Garland were now connected to large trading centers like Lincoln, Omaha and Chicago.
As railways were built, towns were established. The federal government gave land to rail companies, which would turn around and sell it to immigrants and workers at a cheap price. While Nebraska's average land value was over $3,000 per acre in 2016, according to the University of Nebraska Institute of Agriculture and Natural Resources, settlers in 1870 bought an acre of Nebraska for $8.50, or $150 in today's money.
The golden age of the railroad ended with the rise of the airplane and automobile. Advances in cars and planes created more affordable, more flexible and faster ways to ship freight and travel across the country.
Steve Loos of Lincoln, who worked for BNSF for 40 years and is a collector of BNSF antiques, remembers when railroads carried him and hundreds of his classmates from Lincoln to Omaha on Friday nights for football games. They loaded from bus to train, there and back, at least once every week.
But those trips don't exist anymore, he said. Trains today carry more coal and gas than people.
"[World War II] proved the airlines' durability," he said. "The railroads knew that, and they decided they didn't want passenger service because you had to babysit [people.]"
As a result, Loos said, a lot of the lines were dropped.
Despite the revival of rails during the Great Depression and World War II, railroads have experienced a steady decline since the 1950s. Railroads once moved 77 percent of domestic freight and 98 percent of passenger traffic in the United States, but today they handle less than 3 percent of freight and less than 1 percent of passengers, according to the U.S. Bureau of Transportation Statistics.
This shift devastated rural communities. Towns that had grown on the railroad found fewer and fewer people passing through, spending money at local establishments. The heavy freight traffic, like coal and gas, stayed away from small towns and kept to the main railways.
In the early 20th century, every town in Seward County was attached to a railroad. Today, only those attached to BNSF lines, like Seward, Milford and Utica, remain.
Like Garland, many railroad towns ceased to grow or ceased to exist after the trains stopped passing through.